Technology transfer ensures that CMRI delivers impact from its scientific endeavours and maximum benefit to the wider community.

The Team
The CMRI Technology Transfer Team has extensive experience in the development of commercialisation pathways, business development, intellectual property (IP) protection and management, legal agreements as well as contracts and alliance management. With a global network in the biotechnology and pharmaceutical industries, we are well positioned to find the most appropriate industry partners to help bring our technologies to commercial reality, delivering impact and benefit to patients.
Opportunity identification and development of translational pathways
We work closely with our Researchers to identify IP as it is created and assist in protecting and guiding the development of that IP. Our team assesses the opportunities and determines the best pathway to translate these discoveries to secure optimal outcomes for patients. This can include the facilitation of clinical collaborations, partnerships with industry, licensing of technologies, and/or the formation of start-up companies.

Current Opportunities
We have a range of opportunities available to investors and business partners. These range from collaborative research arrangements through to the potential to licence our IP or invest in start-up companies. The current opportunities can be found below.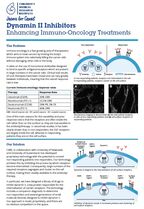 Dynamin II Inhibitors
Enhancing Immuno-Oncology Treatments
Gene Therapy
AAV Vector Development Program
Gene Therapy Program at CMRI/SCHN
AAV Vector Development & Clinical Vector Manufacturing
ProCan
Transforming cancer diagnosis and personalised treatment decision making
ZNF827
Targeting ZNF827 for synthetic lethality in cancer
Stem Cells and Organoids
Advanced capabilities in stem cell and organoid research